Dear Internet Entrepreneur;
Yes, hundreds have paid $197 for this video training, but you can access it free online right now.
What's the catch? -There is none, except that you need to sign up for a free subscription in order to access everything so we can try to avoid getting hammered on bandwidth.
What Do I Get? Over 6 hours of online video training covering website registration & building, rewriting sales letters to maximize response, putting out press releases to draw traffic, and much more.
Why Are You Giving Them Away Free? Because we specialize in making online businesses more successful, we're giving you this video training course to help make you successful, because then you might pay us for online consulting to make you even more successful in the future. (Of course, you're welcome to just use the free stuff here to do it yourself instead :-)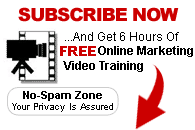 Free Video Tutorials

- A growing collection of training videos covering everything from domain name registration, hosting, uploading files, web design, graphics editing, sales letter rewrites, press releases, and more.

Free Headline Generator

- You've heard how important headlines are... Now you can brainstorm a huge number of improved headlines by just typing in a few phrases and clicking a button

Free Sales Letter Generator

- Do you feel stuck trying to write sales copy? Use this plug-n-play fill in the blanks generator to do it for you.

Internet Business Blog - Got a question? Ask it on my blog, it's got everything from valuable insight to personal pet peeves. :-)
Note: Right now, you can access the videos without subscribing, but they will soon be password-protected, and there are a lot more about to be added, so be sure to subscribe so you don't miss out.